October 2, 2023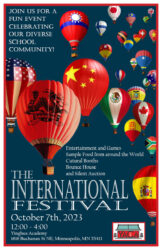 A celebration of Yinghua Academy's diverse community, the start of a new school year, and the kick off of the fall fundraiser!
Who: All Yinghua Academy family, staff and friends
*This is a family event. We kindly ask that parents supervise their children throughout the festival. 
Date: October 7, 2023 12-4 p.m.
Location: Yinghua Academy
Cost: Admission is free. Tickets for food and games will be available for purchase.
Registration:  YA International Festival Registration is NOT required, but we highly encourage you to register. This will help us plan for the right amount of food.
Donate: If you'd like to donate to the fall fundraiser online, you can donate at bit.ly/fallfund2023!
This entry was posted in Uncategorized. Bookmark the permalink. ← Previous Next →
Comments are closed.