All co-curricular before and after school programs, including the Conservatory of Music, are on hold due to the Covid-19 global pandemic.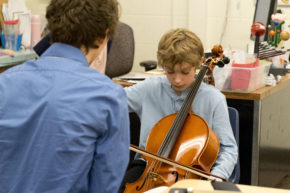 About the Conservatory of Music
We offer three eight-week sessions of after-school private music lessons taught by professional musicians at Yinghua Academy. The only thing better than the convenience we offer is the excellence of the Conservatory of Music faculty.
Yinghua Academy Conservatory of Music offers lessons on a variety of Western and Chinese instruments such as cello, dizi, double bass, erhu, flute, guitar, percussion, piano, ukulele, viola, violin, and Chinese instruments such as dizi and erhu. Families agree to provide the instrument and purchase the music books requested by the instructor.
Details
Typically, students register online in the autumn for a full school year of Conservatory of Music lessons. Classes fall into three eight-week sessions per school year with payment due at the start of each session. A $50 cancellation fee applies if your child drops a class during a session.
Click this link for information about Conservatory of Music registration. After you register, you will receive a confirmation. Do not submit a payment until you receive an invoice.
The fee for each lesson is $35. This includes "Aftercare" before and after the lesson. Your  child will receive a snack, and our talented Aftercare staff will supervise your child's transitions. When in Aftercare, students may do crafts, play games, complete homework, or go outside for play.

Conservatory of Music registration carries from one session to the next during a given school year. If you are continuing, do not re-register your child for the next session.

To discontinue classes, write to Sherry Edwards before the beginning of a new session.
If needed, your child is allotted one make-up lesson per session. The make-up lesson may be scheduled if a lesson is missed due to illness, or if you notify us at least 24 hours prior to missing a lesson. Lessons missed due to unexpected school closure may be reimbursed. Music teachers will try to provide makeup days for weather-related missed lessons. Yinghua will issue a refund if the missed lesson cannot be rescheduled.
To pick up your child, show your dismissal card at Door 2, and staff will call for your child to meet you there.
On lesson days, set Silent Dismissal to AFTERCARE CLASSES/MUSIC LESSONS.
Information and questions: sherry.edwards@yinghuaacademy.org.