Gōng xĭ fā cái! It's time to prepare for Chinese New Year!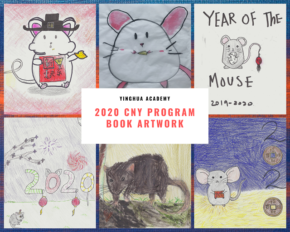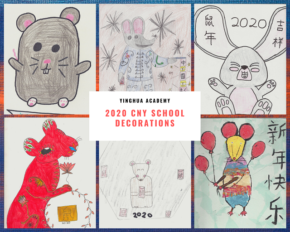 ---
Middle School student permission slip for the Thursday, January 23, rehearsal at Bethel University: 2020 MS CNY Rehearsal at Bethel. Students should return the signed form to the homeroom teacher by Friday, January 17, 2020.
---
On event day, use this link to watch our 2020 performances: https://livestream.com/iDreamTV/YinghuaCNY2020. Share this link with friends and family who won't be present at the performances. CNY Pictures/Video/Livestream Information
---
WHO PERFORMS WHEN
11:30a:  K2, K3, 1B, 2C, 3A, 3C, 4B, 4C, 5A, 5C, 6A, 6C, 1/2 7A, 7B, 8A, 1/2 8B
4:30p:  K1, 1A, 1C, 2A, 2B, 3B, 3D, 4A, 4D, 5B, 5D, 6B, 6D, 1/2 7A, 7C, 1/2 8B, 8C
Among our 825 students, there are 531 siblings. We try to keep siblings in the same show (AM or PM), and we use an algorithm to reduce to a minimum the number of families who have a child or children in each show. We also prioritize factors such as classes that practice together during preparation and staffing needs. Approximately 100 families have conflicts. 7A and 8B will be split between the AM and PM performances; these students will receive their AM/PM assignments prior to Winter Break.
---
VOLUNTEERS As we prepare for CNY, there are hundreds of tasks to be accomplished by volunteers. Remember, renew your background check every five years. You must have a valid background check on file with the school in order to volunteer. Sign up to help with CNY! There are pre-event and event-day jobs that you can do: CNY Volunteer Signup.
---
CHILDCARE at Bethel for CNY performers
If you have children performing at both CNY performances, instead of purchasing tickets for siblings to watch one another, consider preregistering them for CNY Onsite Childcare, provided by our AfterCare staff. This service is funded by YACA and offered at no charge to parents as long as you preregister. Using this service helps save seats for parents and other adult guests and allows you to drop off children together in the morning.
Only currently enrolled Yinghua students are eligible. Staff will chaperone the moves between AfterCare and other locations.
Drop off time is approximately 2.5-3 hours prior to show times. Pick up time is IMMEDIATELY after a show concludes.
SPACE IS LIMITED; first come, first served.
Questions, contact sherry.edwards@yinghuaacademy.org.
---
Performances Yinghua Academy's 2019 Chinese New Year (CNY) morning and afternoon performances take place on Saturday, January 25, 11:30 a.m. and 4:30 p.m., at Bethel University in Benson Great Hall, St. Paul, Minnesota.
Remember, there are two performances. Different casts perform at morning and afternoon shows. Know which show you want to attend before you place your ticket order!
---
TICKET Sales began on Monday, January 6 at 1 p.m.
Tickets are $7 each and may be purchased online at tickets.bethel.edu, by phone at 651.638.6333 or 866.424.4849, or in person at the Ticket Office at Bethel University (M-F, 1-5 p.m.)
If you are purchasing tickets to both shows, you receive a discount (2 tickets for $10); use the code "2PERF" when purchasing your ticket by phone or in person at the Ticket Office, Monday through Friday, 1-5 p.m. The two tickets must be for the same person and must be purchased in the same transaction. There are no refunds or price adjustments after the fact. The 2PERF code may not be used for online purchases.
You must have a ticket to attend the shows. Per Bethel Ticket Office procedures, all sales are final and no refunds are available. Please limit your ticket reservations to three (3) tickets per family, if possible. The venue seats 1,500–if every performer has four guests, we will not have enough seats!
---
Dumplings and Special New Year Foods Dumplings, shaped like traditional Chinese gold ingots, are a symbol of New Year prosperity and eating them invites good fortune. Students will have a chance to sample dumplings at school and a schedule will be posted here.
If your child has food sensitivities, please read 2020 Chinese New Year Food. Notify your child's homeroom teacher if sampling any of the described CNY foods poses a problem for your child. Many foods have special meanings. See Chinese New Year Foods.
---
Place your order online for 2020 CNY DVDs. $20 for the AM or PM DVD, $30 for the AM+PM set: CNY DVD Orders. Order between December 20 and February 4. Questions: cny-dvd@yinghuaacademy.org.
---
DROP OFF AND PICK UP ON 1/25 Drop off your student at the circle drive in front of Benson Great Hall. Times are staggered to accommodate traffic. Staff and volunteers escort students to rooms. You do not need to get out of the car for drop off; however, if you wish to escort your child in, park in the West Parking Lot.  Student Arrival and 2020 CNY Fact Sheet
Questions, contact Wynee Igel at yaca-cny@yinghuaacademy.org.