CNY DVD ORDERS
2017 Performance DVDs are available for order via the school's online store at http://yinghua.corecommerce.com/Chinese-New-Year-DVDs/. Choose the a.m. or p.m. performance for $15 each, or order a combo pack (both performances) for $20. Watch a clip: https://vimeo.com/204934662.
Deadline for orders is February 24, 2017.
CNY Performance Times
Performance times on 2/11: 11:30 and 4:30. See below for which classes perform when.
DROP OFF AND PICK UP ON 2/11 Drop off your student at the circle drive in front of Benson Great Hall. Times are staggered to accommodate traffic. Staff and volunteers escort students to rooms. You don't need to get out of the car for drop off; however, if you wish to escort your child in, park in the West Parking Lot.  Drop off/Pick Up Locations and Times.
Detailed floor plans at Bethel: floor-1 floor-2 floor-3 floor-4
Salmon-colored flyer sent home in backpacks on 2/8: backpack reminders p 1, backpack reminders p 2
VOLUNTEERS As we prepare for Chinese New Year, there are hundreds of tasks to be accomplished by volunteers: CNY Volunteer Sign Up Sheet. (Remember, you must have a valid background check on file with the school to volunteer.)
Dumplings and Special New Year Foods
Students will have a chance to sample dumplings on Wednesday, February 1. Dumplings, shaped like traditional Chinese gold ingots, are a symbol of New Year prosperity and eating them invites good fortune. Yinghua Dumpling Schedule 2017.
If your child has food sensitivities, please read: Chinese New Year Food Information. Notify your child's homeroom teacher if sampling any of the described CNY foods poses a problem for your child. Many foods have special meanings–read Chinese New Year Foods.
TICKETS 
Ticket sales began January 11 for Yinghua's Chinese New Year performances at Bethel University on Saturday, February 11.
Tickets are $7 each. *Some discounts apply for tickets purchased by phone. You must have a ticket to attend. Per Bethel Box Office procedures, all sales are final and no refunds are available. Please limit your ticket reservations to three (3) tickets per family, if possible. The Hall seats 1,500–if every performer has four guests, we will not have enough seats! **New this year is a childcare option for Yinghua siblings.
There are two performances. Different casts perform at the 11:30 a.m. and 4:30 p.m. shows. Know which show you want to attend before you place your ticket order!
11:30 a.m. Performance
K1, K2, 1A, 1B, 2A, 2B, 2E, 3A, 3B, 4A, 4B, 5A, half of 5C (see below), 6A, 7A, 8A
5C AM Group: Anderson, T; Buchanan, A; Burns, N; Chea-Brinkley, J; Chen, M; Fienagha, A; House, E; Jaros, M; McDonough, I; Maxey, G; Orvis, V; Tsang, C; Williams, E; and Wolf, A.
4:30 p.m. Performance
K3, K4, 1C, 1D, 2C, 2D, 3C, 3D, 4C, 4D, 5B, half of 5C (see below), 6B, 7B, 8B
5C PM Group: Byrne, K; Cutting, B; Ellingson, A; Haung, K; Herbst, R; Koester, A; Matre, B; Medicine-Horse, L; Nash, G; Nguyen, D; Schueler, C; Spector, E; Susanka, E; Wiese, M; and Yang, C.
Make sure you select the correct show when you are placing your order! This is what you'll see online–touch on a.m. or p.m.:

How to order tickets:
The preferred method for reserving tickets is online at: tickets.bethel.edu. You will receive an email confirmation of your order. When ordering online, create a user account–>General Public–>Ticket selection–>New User Registration–>choose from available seats. If you are ordering for the afternoon performance, select the second

February 11

tab!
If you wish, you may purchase tickets by phone at 651.638.6333 or at the Bethel University Box Office,

Monday

–

Friday

,

11 a.m.-5 p.m.

If you are using a discount code, you must make your purchase by phone. See below for codes.
Unused tickets may be donated for school use. As soon as you know that you will not be able to use a ticket you have reserved, please notify abigail.pribbenow@yinghuaacademy.org. On event day, bring any extra tickets to the Box Office.
Children who sit on a lap do not need a ticket.
Notify the Box Office in advance for accessible seating arrangements: 651.638.6333 or box-office@bethel.edu.
Tickets ordered by

February 3

will be mailed to you. After this time, use the online e-ticket option to print the ticket at home or pick up pre-ordered tickets at Will Call which opens one hour prior to the performance.
Bethel accepts donations for Yinghua families who cannot afford tickets.
*Discounts
If buying both an AM and a PM ticket—$5 each. Order tickets by phone and use the code "2PERF." The discount applies only to one transaction–you may not add discounted tickets in a later transaction.
Yinghua Alumni—$5 each. Order tickets by phone and use the code "ALUM." There is a seating area set aside just for our alumni!
Staff, see email from Mrs. P.
For assistance with costs: jennifer.olsen@yinghuaacademy.org.
**New childcare option
If you have children performing in both the AM and PM shows, instead of purchasing tickets for each sibling to watch the other's performance, consider using onsite childcare provided by Yinghua Aftercare staff; $5 per student. This helps us save seats for other guests and gives you the option to drop off morning and afternoon performers at the same time. Students will have watched the performances at school and during dress rehearsal. Click here to learn more and to register: https://goo.gl/forms/qb4VxaHvXm5Vtuh33.
CNY DVD ORDERS
2017 Performance DVDs will be available for order via the school's online store at http://yinghua.corecommerce.com/Chinese-New-Year-DVDs/. Choose the a.m. or p.m. performance for $15 each, or order a combo pack (both performances) for $20. Deadline for orders is February 24, 2017.
ART CONTEST
Students in every grade submitted wonderful drawings in the CNY art contest–108 entries were received! Judges enjoyed seeing the joyful rooster interpretations. For more information see the December 17 Newsletter.
12-17-17 NEWSLETTER CNY NOTES:
Most costume requirements will be sent to families from CC's or teachers before Winter Break.
We're making miner hats, miner pick axes, and farm tools! Save your paper towel and wrapping paper cardboard centers, ~3 inch diameter ribbon centers (any width, plastic or cardboard) or mailing tubes, ~3 inch diameter plastic lids (e.g. well washed peanut butter or mayonaise). We need 60 of each.
We need 8-10 straw baskets, single handle, round or oval, 10-12″ diameter.
We need 20 long garment bags or dry cleaning bags.
Check the CNY Volunteer Sign Up Sheet for opportunities to help such as: ironing or steaming costumes ahead of time, loading trucks with costumes and prop boxes and checking that Bethel classrooms are in good shape before and after performances. Also contact your Classroom Coordinator for classroom opportunities.
CNY Calendar; check for information about in-school celebrations for students.
THEME
This year's CNY performance is titled "All Talents Will Join Forces to Celebrate the Lunar New Year." Students will tell the story of general Zǔ Tì , 祖逖, credited with saying "闻鸡起舞" [wén jī qǐ wǔ], which means "to start practicing at the first crow of the rooster" or "to be diligent in one's studies." The script was written by Yinghua's Middle School English teacher, Bradly Byykkonen and our Academic Director Luyi Lien. The performance title is: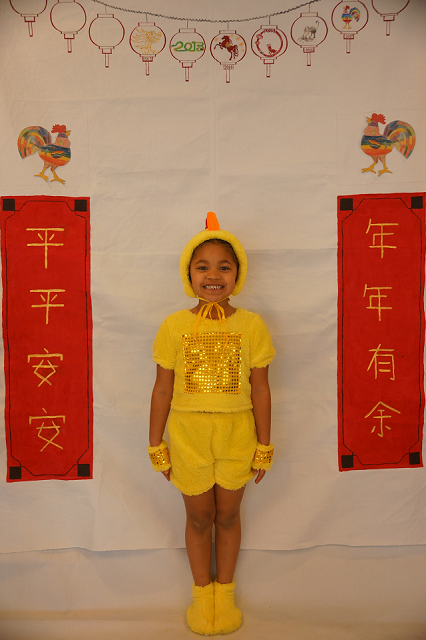 2017 Year of the Rooster
As the majestic rooster heralds the arrival of Spring,
All talents join together to celebrate the New Year.
2017 鸡年
金鸡报晓新春至
群英齐贺中华年
See these links for information about the theme:
Questions, contact Wynee Igel at yaca-cny@yinghuaacademy.org.