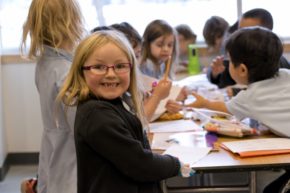 Extended Care
Our Extended Care Program offers both before-school and after-school care for Yinghua Academy students. Both Morning Care and Aftercare are available on school days.
Morning Care
Parents/guardians can sign Yinghua students in for Morning Care at Door 2 between 6:45 a.m. and 7:45 a.m. Morning Care is a drop-in program; you don't need to schedule this ahead of time.  Students are offered a light breakfast snack and may choose study time, indoor games and activities or outdoor play. At 8:15 a.m. students are released to morning homerooms.
COST: $9 per day, billed at the end of each month.
SCHEDULING: No advanced scheduling is needed; this is a drop-in program.
For drop-off after 7:45 a.m., see Arrival and Dismissal information in the Student and Family Handbook.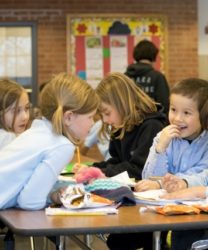 Aftercare
Aftercare provides a safe, productive, fun environment for students between dismissal time (3:30 p.m.) and 6 p.m. each school day.  It's open to all Yinghua students.
Schedule students for Aftercare through Silent Dismissal, our online system that allows you to tell the school how you want your child released every day.  Aftercare must be scheduled by 2:45 p.m. on the day you're using it. (Setting a Silent Dismissal schedule is required for every student, whether or not the student is attending Aftercare. Find more information about the Silent Dismissal program in the Dismissal section of the Student and Family Handbook.)
Those students who show an Aftercare setting in Silent Dismissal will receive a snack in their classrooms prior to dismissal, when they will also verify with Aftercare staff that they are headed for Aftercare. Aftercare begins when school ends at 3:30 p.m.; children in grades 2-8 who have Silent Dismissal set for Aftercare go to the Cafeteria for check-in.  At check-in, students choose the playground, Homework First, the game room or another planned activity. Kindergarten and 1st grade students stay together in their own Aftercare classrooms with dedicated staff for group activities, craft projects and free choice time along with playground time.
Parents/guardians pick up students before 6:00 p.m. at Door 2, where an electronic check-out is required each day.  A fee is charged for late pick-up. See the Student and Family Handbook for more details about Aftercare.
COST:  $15 per day, billed at the end of each month.
SCHEDULING: Sign up by setting Silent Dismissal to Aftercare by 3 p.m. on any given day to use Aftercare. If a student is signed up for a day, you are billed for that day, even if you pick up before 4:00 p.m.
For all questions regarding Extended Care, contact sherry.edwards@yinghuaacademy.org.
No-School Day Care
If you need childcare on Yinghua no-school days, consider Revolutionary Sports, Articulture, and Fiber Works. To review which days are no-school days at Yinghua Academy, visit the Yinghua homepage, and click on the calendar under the "Current Families" box on the right side.
Revolutionary Sports follows best practices in child development in the active sports activities it offers on school release days. For information contact Revolutionary Sports coach, John Richardson, at John@RevolutionarySports.org or (612) 234-7782. As of July 2019, Rev Sports plans to offer camps on the following Yinghua no school days: October 7, 16-18; November 27; December 6; January 27-28; March 9-13; and April 3, 15-17.
Articulture empowers individuals and communities to create positive change through the visual arts and offers interactive art-making opportunities. Articulture will offer programs on October 7 and December 6. Check this flyer for additional dates: Articulture Programs.
Fiber Works is a NE Minneapolis community textile/fiber junction offering workshops in sewing and knitting to children and adults. At day camps, students learn new sewing skills and complete projects. As of July 2019, Fiber Works plans to offer camps on the following Yinghua no school days: October 16-18 (Yinghua conferences and Fall Break); December 30-January 3; January 20; February 17; March 11-13 (end of Yinghua Spring Break); and April 3. Dates are subject to revision–contact Fiber Works to confirm.