Our special after-school programs (Athletics, Conservatory of Music lessons, Enrichment Classes, Homework First, and In-Person Tutoring) are on hold due to the pandemic though Extended Care (Morning Care and Aftercare) is available on a limited basis. Contact sherry.edwards@yinghuaacademy.org.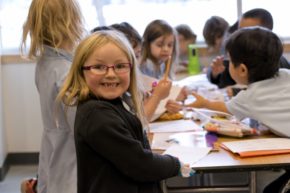 Extended Care
During the pandemic, there is limited availability in our before-school and after-school (Extended Care) programs, and preregistration is required. Families were able to indicate a need for Extended Care in the August 1, 2020 survey. Contact Sherry.Edwards@yinghuaacademy.org.
Morning Care
Parents sign in at Door 2 between 7:00 and 8:00 a.m. Students are offered a light breakfast snack. At 8 a.m. students are released to homeroom. $9 per day, billed at the end of each month.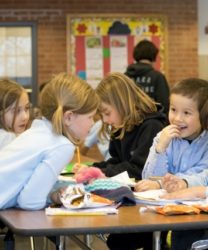 Aftercare
Aftercare begins when school ends at 3:30 p.m. Students check in with Aftercare staff before heading to the playground for outdoor time. During the pandemic we are not offering access to the media center, and Homework First, Enrichment Classes, and Music Lessons are not offered. Most time is spent outdoors. Send appropriate outerwear! $15 per day, billed at the end of each month.
If you are pre-approved for Aftercare, sign up by setting Silent Dismissal to Aftercare. No changes after 10 a.m. If a student is signed up for the day, you are billed for that day, even if you pick up before 3:45 p.m. In August 2020, families completed a survey and indicated if they would need access to Aftercare during the pandemic. Families who indicated a need were given a chance to enroll in Aftercare. Find information about using Silent Dismissal on www.yinghuaacademy.org/current-families/silent-dismissal/.
Parents/guardians pick up Aftercare students before 6:00 p.m. at Door 2, where an electronic check-out is required each day.  A fee of $1/minute charged for late pick-up. See the Student and Family Handbook for more details about Aftercare.
For all questions regarding Extended Care, contact sherry.edwards@yinghuaacademy.org.
Learn more about the popular activities offered during a typical school year:
Private Tutoring, Term I (online only)
Use this FORM to sign up for Private Tutoring. Term I registration begins on September 14, 2020.
No-School Day Childcare Options
During non-pandemic times, if you need childcare on Yinghua no-school days, consider Revolutionary Sports, Articulture, and Fiber Works. See https://www.yinghuaacademy.org/resources/school-release-days/ for information and links.