October 1, 2021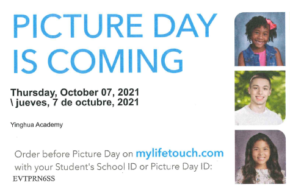 Picture Day is Thursday, October 7! Picture Day is a non-uniform day for students, but please remember that clothes worn on non-uniform days must be appropriate for school.

There are two options to order pictures:

1. You can follow the steps on the form and go to mylifetouch.com to order pictures online. The Picture Day ID is EVTPRN6SS. Having completed the online ordering process, you can print out the confirmation sheet and send it with your child on Picture Day.

2. You can fill out the paper form, given to students by their Homeroom teachers, with a check/money order and send it back with your students to their homeroom teacher. The form will then be stored in a safe place in your student's homeroom room until Picture Day on October 7.

If you have any questions, please contact Office Manager Ruthie Stein, ruthie.stein@yinghuaacademy.org.

This entry was posted in Uncategorized. Bookmark the permalink. ← Previous Next →

Comments are closed.