September 13, 2021
The Back-to-School Curriculum Night for Middle School parents was Tuesday, September 14, from 7-9 p.m. via Zoom. For Lower School parents, Curriculum Night was Tuesday, September 21, from 7-9 p.m. via Zoom. All PowerPoint Presentations and Curriculum Maps from the Curriculum Nights are now available on the Yinghua Curriculum page.
The school strongly encourages parents and guardians to attend as it is a perfect opportunity to connect with your children's teachers as we begin the new school year. Teachers will give a curricular overview and explain classroom as well as homework expectations. Through experience, we've learned that a strong partnership between parents and the school allows us to maximize each child's full potential. Please make use of this time to also ask questions you may have for the teachers.
Thank you, in advance, for sharing this time with us for the benefit of our kids! As always, together we're better!
Middle School Curriculum Night: September 14, 7 – 9 p.m.
Fifth – Eighth Grade Schedule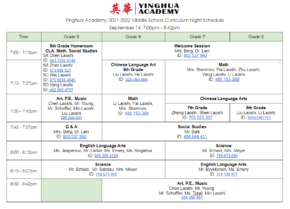 Lower School Curriculum Night: September 21, 7 – 9 p.m.

Kindergarten – First Grade Schedule

Second – Fourth Grade Schedule
This entry was posted in Uncategorized. Bookmark the permalink. ← Previous Next →

Comments are closed.