May 11, 2018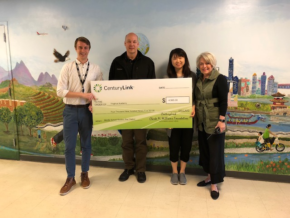 On May 11 CenturyLink presented a giant check to Yinghua Academy. This CenturyLink grant will help Yinghua equip its 5th and 6th grade Social Studies classrooms with iPads to support research and collaborative learning. Last year, CenturyLink supported our emerging readers with funds for iPads in second and third grade English Language Arts classrooms. The impact of these donations is far-reaching. Thank you for your support, CenturyLink!

This entry was posted in Press. Bookmark the permalink. ← Previous Next →

Comments are closed.