September 27, 2017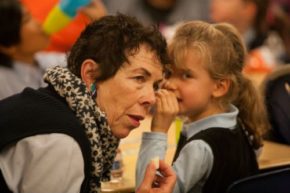 Yinghua will celebrate the role that grandparents play in their grandchildren's lives.  Please have some chrysanthemum tea, buy some school swag and books in Mandarin and in English. Kindergarten, Grades 1 and 2 will perform for the grandparents and then do a creative activity with them. Due to space constraints and lunch hour for students, Yinghua is unable to host grandparents for lunch. Northeast Minneapolis is filled with delicious restaurants.  Learn more: 2017 Restaurant List

Register: https://goo.gl/NSTWC7

Questions: rsvp@yinghuaacademy.org

Parent volunteers make Grandparents' Day a truly special occasion.  Please volunteer as a greeter, classroom host, and other roles click here.

This entry was posted in Uncategorized. Bookmark the permalink. ← Previous Next →

Comments are closed.