June 4, 2015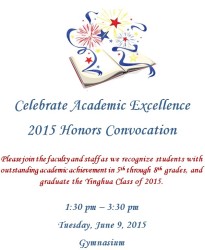 Join us on Tuesday, June 9th from 1:30-3:30 PM for an afternoon of celebration and recognition for our 5-8th Grade students during the annual Honors Convocation & Graduation! Awards and special recognition will be given to Yinghua Middle Schoolers who have shown excellence not only in academics, but also in personal growth and leadership. The graduation of the Class of 2015 will conclude the ceremony as a special sendoff to a group of hardworking students who are sure to shine in their high school careers.

This entry was posted in Uncategorized. Bookmark the permalink. ← Previous Next →

Comments are closed.