June 27, 2013
About fifty people attended the ground-breaking ceremony at noon on June 26, where twelve golden shovels and hard hats awaited anyone who wished to turn a bit of dirt in celebration.  In attendance were board members, facilities committee members, administration, parents, teachers, students, architects and contractors, and other project consultants. Click on Expansion Details under Current Families for all the latest details!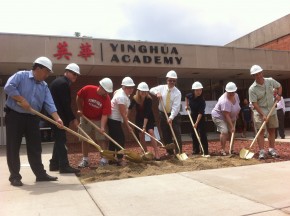 This entry was posted in News. Bookmark the permalink. ← Previous Next →

Comments are closed.